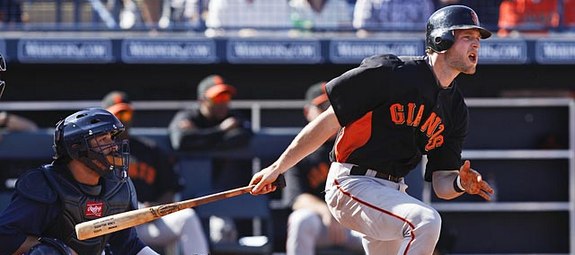 The White Sox added some more infield depth today with the addition of Giants 3B Conor Gillaspie for Sox prospect Jeff Soptic.
First, here's what
Rick Hahn had to say about the addition
.
"(Gillaspie) conceivably fits in nicely on the roster, which we'll obviously decide more about toward the end of next month," general manager Rick Hahn said. "But we see him having a solid hit tool, above-average awareness of the strike zone, solid defensively. He gives us a little versatility in his ability to play third base as well as first. He gives Robin (Ventura) some options potentially."
The 25-year old has spent the last two years playing in 130+ games for AAA Fresno in the Pacific Coast League. 2012 didn't prove to be as good of a year as 2011 for Gillaspie, but he still batted .281/.345/.441/.786 along with 14 HRs (an improvement from 11 in 2011).
Gillaspie's value to the Sox is the fact that he is a left-handed hitter and also gives more depth at third. With this trade, Angel Sanchez will be used for the middle infield while Gillaspie will add depth to the corners. Those two along with DeWayne Wise and Hector Gimenez will likely be the bench players on Opening Day.
With the addition of Gillaspie, Brent Morel will almost certainly start the season in the minors. Also, because of the addition, newly acquired Lars Anderson has been DFA'd.
Now a little more on the loss of Jeff Soptic. Soptic was drafted in the third round in 2011 out of community college in Kansas. He possesses a big time fastball that could reportedly touch 100, but he struggled last year in Kannapolis with a 5.40 ERA. Still, atleast the Giants got something in return for Gillaspie who was certainly going to be lost on waivers in a couple of weeks. Soptic's big arm gives the Giants something to work with.
Overall, I like this trade for both teams. The White Sox got what they needed; a lefty and more infield depth. It's not flashy, but hopefully it will be effective.
Follow Pale Hose Prospectus on Twitter - @ChiSoxProspects