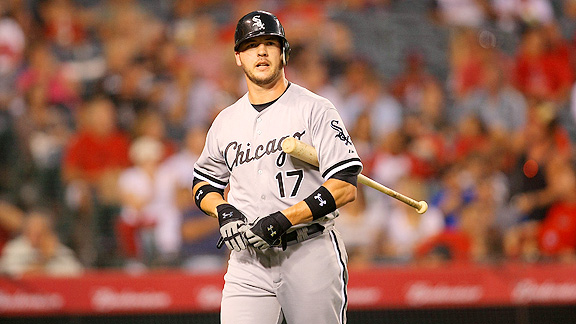 Tyler Flowers gets his first opportunity to be an every day player. (ESPN.com)
I continue my spring training previews with the catcher position (check out the outfield preview
here
). The White Sox will enter a season with a player not named A.J. Pierzynski starting at catcher for the first time since 2004. Below are previews and profiles of all the catchers that will be with the White Sox in Arizona in a couple of weeks.
Tyler Flowers - Well, Flowers got his wish as he'll be the everyday starter after A.J. Pierzynski signed with the Rangers. We know who Flowers is, so no more time on him.
Hector Gimenez - Gimenez is the favorite entering spring training to win the backup job. The 30-year old Venezuelan was signed by the White Sox last year and appeared in 5 games with the Sox where he totaled 5 hits and a RBI. Besides those games, Gimenez spent his year with AAA Charlotte. In 99 games, he batted .259/.324/.440/.764 with 14 HRs and 57 RBIs. Having only 11 games in the majors since 2006, this will likely be Gimenez's first time that he will get some actual meaningful playing time.
Josh Phegley -
Phegley enters the 2013 season as the top
catcher prospect in the organization
. Phegley seems to be a low-ceiling, high floor type of prospect. He had average numbers (.266/.306 /.373/.680) last year in his first full year with Charlotte. He has a pretty good arm that threw out 46% of runners which helped him earn a MiLB Gold Glove award.
Bryan Anderson - This will be Anderson's first year with the Sox after they signed him in November. Anderson will provide the biggest competition for Gimenez for the backup catcher position. The 26-year old had a chance last year to win the backup catcher spot with the Cardinals, but ended up in AAA for most of the year (did have a few bats with St. Louis). Anderson has been well-seasoned with 170+ PAs in AAA Memphis in every season since 2008. 2012 was a tough year for Anderson, batting .225/.302/.317 and posting a 22.7 K%. But, he is left-handed which the White Sox value.


Michael Blanke -
Blanke spent 2012 with Winston-Salem where he was average offensively (.240/.303/.399/.702). However, he did show a little pop with 10 HRs. His CS% was down a little from 2011 (37%) to 31% in 2012. Baseball Prospect Nation did list him on
their 2012 All-Prospect Team for the Carolina League
.
Kevan Smith -
In my
top catcher prospects list
, I ranked Smith second and I just
did a scouting report/profile on him
. He threw out 33% runners last year and was also named a South Atlantic League All-Star. I'm a little higher on Kevan Smith than most. Yes, I do know that Smith is a older (24) for A+ ball and people have to remember that, but his past as a BCS-level QB (athleticism) and his production (1.073 and .772 OPS in his first two years) make him an interesting prospect to watch.
Follow Pale Hose Prospectus on Twitter - @ChiSoxProspects