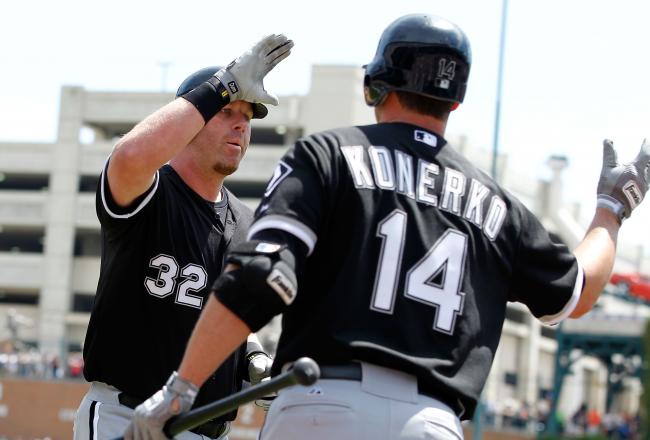 Up next in the set of spring training previews are the first and third base positions. Besides Paul Konerko and Adam Dunn, no players have proven their worth with the White Sox yet. Brent Morel struggled early last year, Kevin Youkilis is gone, Jeff Keppinger hasn't played with the White Sox yet, and nobody else below has seen the big leagues with the White Sox. You can find the previews for the outfield
here
and catchers
here
.
Paul Konerko and Adam Dunn - These guys are pretty good. That can't be said for the rest of the corner infielders.
Jeff Keppinger (3B) - Rick Hahn decided to make Jeff Keppinger the guy at third. Not many White Sox fans were screaming with joy after they heard the news of Keppinger's deal (12M/3yrs), but it is a solid addition. Keppinger batted .325 last year and had an OPS north of .800. Also, only Juan Pierre has struck out less in recent years than Keppinger.
Lars Anderson (1B) - Former top Red Sox prospect Lars Anderson was picked up by the White Sox earlier this month. There's nothing Lars really brings to the White Sox that they need. Expect Lars Anderson to fill the Dan Johnson role.
Angel Sanchez (3B/SS/2B) - The White Sox used the Rule 5 draft for the first time in several years to draft Angel Sanchez. Sanchez will likely be the White Sox utility infielder this year. Sanchez has had a cup of tea with the Royals, Red Sox, and Astros. Last year with in the 'Stros organization, he batted .320/.390/.407 with 5 HRs in AAA last year. Before that in 2011, Sanchez spent 110 games with the Astros.
Brent Morel (3B) - After a terrible start to the 2012 campaign and back problems, Morel was demoted to Charlotte. Morel is feeling healthy again and he has a slight chance to be on the Opening Day roster. If that were to happen, Morel would have to have a much better spring than Sanchez. However, because Sanchez plays two positions, Sanchez has the definite advantage.
Josh Bell (3B) - Like Lars Anderson, Bell was once a highly-touted prospect. However, Bell has struggled mightily at the major league level. In the past three years with the Orioles and Diamondbacks (100 games), Bell has batted below the Mendoza line and striking out way over 20% of the time.
Andy Wilkins (1B) - Wilkins is the only actual prospect in this bunch. Wilkins belted 17 HRs in AA Birmingham last year and 40 in the last two years combined. He participated in the Arizona Fall League and got off to a red hot start, but slowed down toward the end of the season. Keep an eye on Wilkins this spring training.
Steve Tolleson (3B/SS) - The White Sox are the fifth organization that Tolleson has been a part of. The White Sox signed Tolleson to a minor league deal back in November. He spent last year with Baltimore where he batted .183/.227/.310 in 29 games. Tolleson can play a little bit of everything (except 1B and C) and the White Sox see potential in him to become a utility player. However, he's behind Angel Sanchez right now in that category.
Seth Loman (1B) - Loman has been in the White Sox system since 2009 and spent last year primarily with Birmingham. He batted .276/.364/.453 and hit 16 HRs with the Barons. However, he has been in the minors since 2006 and is currently 27-years old.