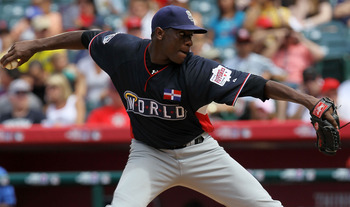 Position: RHP
Height/Weight: 6'5/230
Bats/Throws: Right/Right
Birthday: April 9th, 1988
Hometown/School:
San Jose de los Llanos, Dominican Republic
STATS
Castro was acquired by the White Sox in December of 2011 as part of the Carlos Quentin trade. The 24-year was one of the best prospects in the Padres system at the time and one of the best RHP prospects in baseball. Although he has fallen off of Baseball America's top 100, he is still a top prospect in the White Sox system.
After a disappointing 2011 season, Castro bounced back in 2012 with the White Sox. Last year, with 3 teams combined (Bristol, Charlotte, and Birmingham), Castro started 21 games, going 7-5 with an ERA of 3.85, and a WHIP of 1.291. He spent most of his time last year (15 starts) with Birmingham where he put up his best numbers of the year.
Castro primarily uses a fastball/slider combination. According to reports, Castro's 4-seam fastball is in the low 90s (can reach mid-90s) and has nice movement. His slider is major league average right now, but can become more effective with a little more command. He also works in 83-85 MPH changeup.
There is some question to what his role in the big leagues will be. Some see him as a back-end starter, some see him as high as a #2, and some see him as a reliever. Below are some excerpt from various scouting reports.
A huge, daunting figure who can touch 99mph with his heater, White Sox righthander Simon Castro is one of the most promising pitchers in a system that's not especially deep in pitching to begin with. Castro's slider is probably his best pitch, and when he's locating the fastball at the same time, he's nearly unhittable. Some scouts see a closer in Castro, but for now the Sox will follow the path the Padres started, and keep pushing him as a rotation member. One thing is sure: he's got the frame necessary to carry 200 innings, so they're probably wise to squeeze him into the rotation if possible.
Baseball Instinct
:
Castro was a top prospect of the Padres a couple of years ago. He has the stuff to be a mid rotation arm, with a power fastball in the low 90s that can at times touch 95. His slider is his best pitch when he's in line and a changeup is there, though is still not refined. He'll move up the ladder and could be another 3-4 starter type. But in short stints he could be dangerous. I've seen him as a power bullpen arm and have for a few years now.
Project Prospect
:
Castro has room to improve his command, but I saw him show a feel for three pitches that could be average or better in the bigs. The big righty pitched with a purpose. He wasn't just throwing the heck out of the ball every time, instead opting to aim for corners and keeping hitters off-balance with thought-out pitch sequences and locations.
Follow Pale Hose Prospectus on Twitter -
@ChiSoxProspects